Ewain Gwynne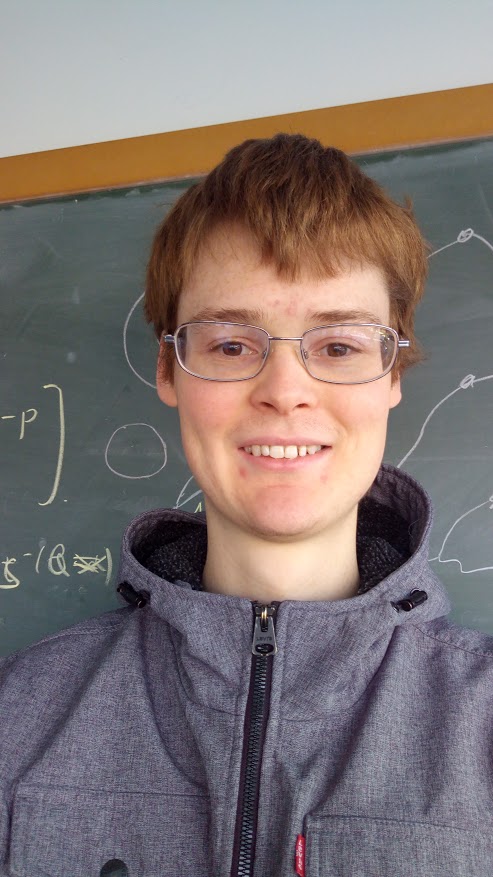 I am an associate professor of mathematics at the University of Chicago.
Prior to coming to Chicago I was a postdoc at the University of Cambridge. I got my Ph.D from MIT in 2018, advised by Scott Sheffield. Previously, I was an undergraduate student at Northwestern University.
I am interested in probability theory, particularly random curves and surfaces which arise in statistical mechanics. Topics I have worked on include Schramm-Loewner evolution, Liouville quantum gravity, random planar maps, random permutations, random walk in random environment, and various random growth processes.
Here is a non-technical summary of my research aimed at an audience with some scientific background, not necessarily in math.
I am a co-organizer of the workshop Two-Dimensional Random Geometry which will take place at IMSI in Chicago, July 8-12 2024.
I am a co-organizer of the online seminar Random Geometry and Statistical Physics.
I am an associate editor of Probability and Mathematical Physics.
Contact Information
Office: Ryerson 360D
Email: ewain at uchicago.edu
Here is a link to my CV: CV
Articles
Expository works
Introduction to the Liouville quantum gravity metric (with J. Ding and J. Dubedat). arXiv:2109.01252
Mating of trees for random planar maps and Liouville quantum gravity: a survey (with N. Holden and X. Sun). Panoramas et Syntheses. arXiv:1910.04713
Random surfaces and Liouville quantum gravity. Notices of the American Mathematical Society. arXiv:1908.05573
Relationships between supercritical LQG, SLE, and random planar maps
Harmonic balls and IDLA
Meanders and permutations
Loewner evolution with complex driving function
Critical and supercritical Liouville quantum gravity metric
Subcritical Liouville quantum gravity metric
Distances in random planar maps and Liouville quantum gravity
Random walk/conformal embeddings of random planar maps
Percolation on random planar maps
Self-avoiding walk on random planar maps
Convergence of the self-avoiding walk on random quadrangulations to SLE8/3 on √

8/3

-Liouville quantum gravity (with J. Miller). Annals de l'ENS. arxiv:1608.00956
Metric gluing of Brownian and √

8/3

-Liouville quantum gravity surfaces (with J. Miller). Annals of Probability. arxiv:1608.00955
Scaling limit of the uniform infinite half-plane quadrangulation in the Gromov-Hausdorff-Prokhorov-uniform topology (with J. Miller). Electronic Journal of Probability. arxiv:1608.00954 (journal)
Fractal properties of SLE/LQG
Peanosphere convergence/mating-of-trees bijections
First passage percolation
Undergraduate papers
Talks
Mar. 2024. KPZ meets KPZ workshop, Fields Institute, Toronto.
Aug. 2023. Mini course at Aalto University, Helsinki. Video recordings available here.
Mar. 2023. CU Boulder probability seminar.
Feb. 2023. NYU Courant probability seminar.
Jan. 2023. UChicago physics colloquium.
Oct. 2022. Institute for advanced study probability seminar.
Sep. 2022. Universality in mathematical physics mini school in Lyon (lecture notes.
Sep. 2022. Kendall award lecture, Royal Statistical Society meeting in Aberdeen.
Jul. 2022. ICM sectional lecture (online). Joint talk with Jian Ding and Julien Dubedat.
Jul. 2022. Probability and Mathematical Physics ICM satellite conference in Helsinki (video). The talk is a solo version of my joint ICM sectional talk.
May 2022. Universality: Random Matrices, Random Geometry and SPDEs conference at Oberwolfach.
Apr. 2022. UChicago math colloquium.
Apr. 2022. Stanford probability seminar.
Mar. 2022. The Analysis and Geometry of Random Spaces workshop at MSRI.
Feb. 2022. Lyon probability seminar (online).
Nov. 2021. Geneva Mathematical Physics seminar (online).
Jan. 2021. Expository talk for Trinity college, Cambridge alumni (online).
Dec. 2020. Oberseminar Stochastik at University of Bonn (online).
Nov. 2020. University of Bristol probability seminar (online).
Oct. 2020. AMS Sectional meeting (originally at Penn state, now online).
Aug. 2020. Bernoulli-IMS One World Symposium, ``Models in Physics" session. (online)
Apr. 2020. University of Bath probability seminar (online).
Mar. 2020. Cambridge mathematical physics seminar.
Jan. 2020. Wharton (UPenn) statistics seminar.
Dec. 2019. Northwestern University colloquium.
Dec. 2019. University of Chicago colloquium.
Dec. 2019. University of Chicago probability seminar.
Nov. 2019. Heat Kernels, Stochastic Processes and Functional Inequalities workshop at Oberwolfach.
Oct. 2019. EPFL probability seminar.
Sep. 2019. Princeton University probability seminar.
Sep. 2019. Penn/Temple probability seminar.
Jun. 2019. Probability and quantum field theory: discrete models, CFT, SLE and constructive aspects, conference in Porquerolle, France.
May 2019. University of Cambridge probability seminar.
Mar. 2019. Vienna probability seminar.
Feb. 2019. University of Warwick probability seminar.
Dec. 2018. Amir Dembo birthday conference, Stanford University.
Oct. 2018. Columbia University probability seminar.
Jul. 2018. Random Geometry followup workshop at the Isaac Newton Institute. (video)
Mar. 2018. Stony Brook University analysis seminar.
Feb. 2018. Brown University graduate student conference.
Feb. 2018. Penn/Temple probability seminar.
Dec. 2017. Tel Aviv university probability seminar.
Oct. 2017. Oberwolfach seminar: Scaling limits of random planar maps and Liouville quantum gravity.
Oct. 2017. Zurich graduate student probability seminar.
Oct. 2017. Zurich probability seminar.
May 2017. Stochastic Analysis: Geometry of Random Processes workshop at Oberwolfach.
Apr. 2017. Brown discrete math seminar.
Apr. 2017. AMS Sectional meeting at Indiana University.
Mar. 2017. SLE, GFF, and LQG in NYC workshop at Columbia University.
Feb. 2017. Cornell probability seminar.
Jun. 2016. Recent developments in SLE conference at the Institut Mittag-Leffler.
Feb. 2016. MIT probability seminar.
Jan. 2016. University of Chicago probability seminar.
Nov. 2015. Michigan State University probability seminar.
Oct. 2015. Northwestern University analysis seminar.
Aug. 2015.Microsoft Research, Redmond, WA. (video)
Jan. 2015. Conformally invariant scaling limits conference at the Isaac Newton Institute. (video)