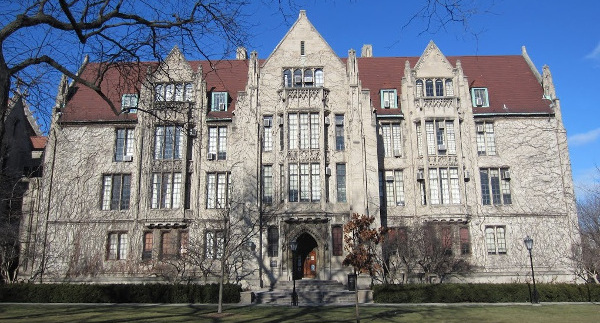 Featured Events
Craig Evans to give the 2018 Amick Lectures

Craig Evans, Professor of Mathematics at UC Berkeley, will be giving the upcoming Amick Lectures during March 6-8, 2018.

Alex Kontorovich's colloquium at 3pm on Wednesday, Mar 28 in Eckhart 206

The title of the colloquium is "Sphere Packings and Arithmetic". We define a general class of sphere packings, and study the subclass of "superintegral" such. By connecting these to the theory of hyperbolic arithmetic reflection lattices, we prove that they only exist in finitely many dimensions, and in fact in finitely many commensurability classes, in principle allowing for a complete classification.

Jesse Wolfson's colloquium at 3pm on Wednesday, April 11 in Eckhart 206

The title of the colloquium will be "Braids, Polynomials and Hilbert's 13th Problem". There are still completely open fundamental questions about polynomials in one variable. One example is Hilbert's 13th Problem, a conjecture going back long before Hilbert. Indeed, the invention of algebraic topology grew out of an effort to understand how the roots of a polynomial depend on the coefficients. The goal of this talk is to explain part of the circle of ideas surrounding these questions. Along the way, we will encounter some beautiful classical objects - the space of monic, degree d square-free polynomials, algebraic functions, lines on cubic surfaces, level structures on Jacobians, braid groups, Galois groups, and configuration spaces - all intimately related to each other, all with mysteries still to reveal. This is ongoing joint work with Benson Farb and with Benson Farb and Mark Kisin.

Hee Oh to give 2018 Namboodiri Lectures

Hee Oh, Abraham Robinson Professor of Mathematics at Yale, will be giving the upcoming Namboodiri Lectures during April 16-18, 2018. The theme will be "Dynamics, Fractals and Kleinian groups". For the abstracts and times of her talks, see the link below.
News and Announcements